A quick note of thanks to the Beatles for inspiring the title for this series of posts. This is the eighteenth in a series of posts written about our trip that will be published four weeks to the day of the trip.
Day 18 – Drive on Tuesday, May 19, 2015
Hampton Inn and Suites in Christiana/Newark
We were prepared for a vampire loss overnight of -10 to +1 range, we found that the cool rain provided us with the upper end of the expected range. We gained a mile from the time we parked last night to the time that we decided to roll out.
I don't have anything to add to this hotel location except to highlight the fact that this was the only hotel on the trip, so far, that we have visited for a second time. That, in itself, should be a positive endorsement.
We now stayed in Delaware twice that we were beginning to wonder whether we should start a corporation or something.
It's interesting to see how empty the hotel looks from the window of our room. This place was packed last night.  People really clear out early.
Newark Supercharger
With around a 3 mile difference, the drive from the hotel to the supercharger was quick.
The Delaware Welcome Center seems to be a very popular stop for buses heading on field trips (Washington, D.C. perhaps?). While we were sitting and charging at the location at least a dozen tour buses filled with teenagers had stopped by at this Welcome Center.
The Delaware Welcome Center is pretty full during this time of day and if you're hoping to get some Starbucks, be prepared to wait. Even with two locations inside the Welcome Center, the number of people in line gets quite long.
Not sure with what we can expect at Hershey, PA, we range charged. The many routes to Hershey, PA from the Delaware Supercharger took us through many off-Interstate routes, and not knowing the area, we just randomly picked one. This time, on a lark, we thought to give Google Maps a try and used the turn by turn directions provided by Google's iPhone app. We also put in our destination on Tesla's in-car navigation, but decided to take the route that looked like it used the least amount of Interstates.
With that in mind, we went off to go to Hershey's Chocolate World.
The recommended routes to Hershey Chocolate World on Google Maps and from Tesla Navigation were remarkably different.  The Model S first tried to get us to take a Route North then West, whereas the Google Maps one had us go Southwest and then North.  We stayed on the Google Maps and we were off the Interstate rather quickly.  We got off the Interstate in Delaware and entered the Maryland border on surface streets/highways?
Not sure what this meant when we passed it, so we went ahead and searched for it on Google. We figured that it had nothing to do with fish & chips, and we were right.  Apparently on some rural routes, its a method for repairing the road using chips of rock with oil.
The sign was followed with a progress at your own risk disclaimer which we found unnerving, but unsure of what we would encounter over alternate methods, we pressed on. The sealing method must have done its job properly because we were lucky enough not to have chips of rock flying free on us on this portion of the drive. That would have been irritating, to say the least.
Somehow we found ourselves crossing into Pennsylvania though we did not capture the welcome sign into the state this time.
Not really very knowledgeable of Pennsylvania geography, somethings lead me to think that we're in Amish Country.  Like the appearance of this sign that I was unfamiliar with.
Ooh, Cows…
That confirms it, we are in Amish Country.
It was a rather scenic drive. However, our friends at Google Maps navigation did try to send us to a closed road that we decided to turn around and use the Model S navigation about 30 miles into the drive.
Another set of cows.
We ran into another sign to remind us that we're sharing the road with horse powered buggys.
A few more signs that remind us that we're in Amish country.
This place looked to be a recreation rather than an actual Amish location. Having chocolate on one's goal compelled us to press on.
Hershey, PA
And we find ourselves entering the town of Hershey, PA.  A few signs that remind us of the importance of chocolate to the town and its history.  Just like our experience in Maine, these guys are so friendly that they had TWO welcome to Hershey signs.
The one that had a chocolate bar in it.
And the other one that was all "official" and like.
A lot of the signs about town were chocolate related.  Like the  movie house below, it's called the CocoaPlex.
Or the Cocoa Motel.  Seeing that we're strictly focused on staying at Hotels with an H and not an M.  We skipped that spot. 😉
Tasty reading at the Hershey Public Library.
The town definitely has embraced the chocolate factory, take a look at the street lights/lamp posts.
Kind of a tight underpass toward the Hershey Chocolate World.
It's interesting to contrast the drive into and around Hershey, PA with my other experience in the town of Slough, UK.  Slough is the UK headquarters for Hershey's competitor Mars, Incorporated (of M&M's fame.)  Aside from the tell-tale sweet smell of chocolate in Slough Trading Estate, the town didn't seem to celebrate the Mars Bar or any ties to the candy as Hershey, PA does to the Hershey Bar.  I would have enjoyed trying to visit either the Left Twix or Right Twix factory.
After this brief drive through the town, we enter Hershey Chocolate World.
Hershey Chocolate World
Hershey Chocolate World is a combination attraction and store. The thought to stop and visit Hershey, PA was borne from our initial drive through PA on Day 9. As we drove into PA, we thought how "cool" it would be to go to Hershey, PA.  No real planning or anything. Since it seemed to be away from Tesla Supercharger highway, we dismissed it until we can figure out a way to it.  And I was glad that we did.
Our later research into a visit to Hershey Chocolate World yielded us the information about four Level 2 J1772 Chargepoint chargers that were listed on Plugshare.com.  Additionally, it seems that Hershey, PA also has other chargers installed throughout the town.  So, armed with a bit of information, we were able to incorporate this drive to the return.
The theme park was closed when we visited, but we weren't planning on going there anyway, so we headed into the Hershey's Chocolate World store.
The selection of Hershey's chocolate was incredible.
White, Milk, or Dark?
I was disappointed that they did not stock any of the international Kit Kat flavors.
There were some attractions and we chose the free one, the "factory tour." I have this is quotes because we didn't actually get to see the factory folks doing their work, just a bunch of exhibits describing the chocolate making process. However, it was a fun little ride and diversion.
It turned out that the Factory Tour is a ride.
Hershey's chocolate starts with milk, and milk comes from cows, so the tour starts with introducing us to the cows.
So, we follow the tour to the various steps of the chocolate making process.
No matter where you go, it seems that they really like Kiss shaped lighting around Hershey, PA.
When we were done visiting the Hershey Chocolate World, it looks like it was just us charging here on this particular visit.  I figure that in the peak season, these chargers will more likely be used more often.  The parking lot was fairly empty.
We rolled out with 200 miles on our rated range and our first Level 2 charge of the trip. This means that we added 28 miles of rated range for the 100 minutes that we were inside the Hershey Chocolate World.  That's a rate of 16.8 rated range miles per hour to charge at these J1772 stations.
Taking the opportunity to check out destination charging and making an entry for the beta of the (now released) Teslarati App for iOS, we headed to the AACA Museum, about 2 miles away from Hershey Chocolate World.
AACA Museum, Hershey, PA
The drive was uphill, but short, so we used about 3 miles of rated range to get to the AACA Museum on the route toward Hagerstown Supercharger.
The chargers at this location were located in the driveway by the entrance to the museum.  We plugged in to see what the rate is and to get another "places you've charged" into the Model S.  Our experience at this location nets a 40A feed and not the 80A that we expected from these Tesla High Power Wall Charger (HPWC).
Just ahead of the Tesla HPWC is the Hershey Kissmobile.  With Hugs, Almonds, and Kisses making up the main portions of the vehicle.
You can actually see our car charging on one of the two HPWCs just behind me and the Hershey Kissmobile.
Since we've been visiting many a car museum lately, (Nethercutt Collection and the Petersen Museum collection that was at the President Reagan Library and Museum) we decided to skip on actually going to view the exhibits in the museum.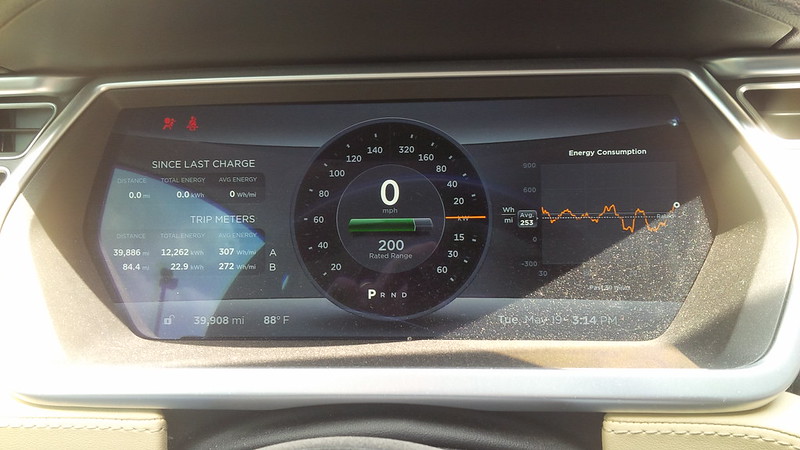 We charged enough to get the 3 miles that we lost getting to the museum and continued on our way.
Hagerstown Supercharger
We sent notices to a few of the Maryland guys, but they were unavailable. So, we find ourselves in Hagerstown by ourselves again.  Will just have to meet these guys "in real life" on another trip.
We decided not to eat at the Hagerstown Supercharger location this time.  I did notice that we just passed 40,000 miles upon arrival at the Hagerstown Supercharger.  40,004 miles, to be precise.  Long time readers know how much I enjoyed documenting "significant mileage" milestones.
When we set out to go to Hershey today, we discussed making the decision to go West and what route to take by the time we finished charging at Hagerstown.  We decided to skip going South and Hagerstown, MD and Somerset, PA were the two superchargers that we will pass before we decide to continue back the same direction that we took to head East, or to take the just opened I-70 route.
The completion of the St Charles, MO charger on I-70 had made it possible to cross Missouri to Independence. After the completion of this supercharger, more aggressive drivers have been able to do this with one range charge.  In fact, my former co-pilot on the Tour de Tesla 2013, Jim, tried to complete this in the April 2015 as an attempt via his much quicker "EV Cannonball Run", he actually got a boost from @LithieTWTesla via an HPWC 30 miles toward Independence, MO from St Charles, MO that they share on Plugshare as opposed to our more leisurely roadtrip.
Heading to @LithieTWTesla to charge up a few extra miles just to be cautious #teslamotors

— EV Cannonball (@EVCannonball) April 22, 2015
So, we reached Hagerstown, discussed it and decided to add the I-70 route to our plans.  I don't normally correspond with @LithieTWTesla so, figured we would make a stop closer to the middle, it looks like Columbia, MO have some options.
We finally caught the state line crossing back into Pennsylvania on this part of the drive.
My wife decided to take a few more pictures of the car and the view from the side mirror again.
We headed into the tunnels through the Allegheny Mountain pass here.  Though, we missed the A in this shot.
We caught the whole sign, but the mirror image since we shot this picture through the side mirror.
Some compelling pictures of the sunset again.
Got a better shot of the windmills in Pennsylvania on this drive. I don't understand why folks are against these things. Considering the alternative, I would say that they're pretty cool.
The dusk offers us with the some of the most compelling shots of the trip.
And we find ourselves at Somerset location again.
Somerset Supercharger
At this location with a much darker time of day. Or dusk as it is more appropriate to call it now.
The long dusk period stayed with us as we departed Somerset on our new route Westward on I-70.
Under the heading of, we've never slept in… Oh wait, we've never BEEN to West Virginia before, we decided to find a place near to or on the way to the Triadelphia supercharger.
It turns out that this location is at a hotel, so we just booked there.
Spotted on the way to Triadelphia is California… Not the same one, apparently. 😉
And we find ourselves at another state line welcome sign.
Hampton Inn & Suites, Triadelphia
We chose to stay at the Hampton Inn & Suites, Triadelphia because the supercharger is located at the same place.  We make it a point, when we can, to stay and sponsor those businesses that have decided to support the supercharger network.  Besides, it's most convenient to roll out of bed, and supercharge while getting ready for the day.
So, we checked in for the evening with 117 miles of Rated Range left, and a new state to add to the list of states that we've visited.  At this point, the list of states that we've never visited is quite small.
Go on to Day 19. Click here.