This past Sunday, April 17, 2016, my wife and I attended the Tesla Weekend Social at the Costa Mesa (California) Sales and Service Center.
We were sent this invite a few days ahead of the first ones on April 14, 2016.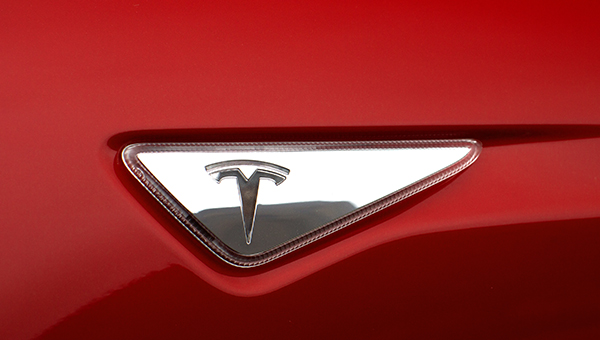 We are excited to invite you to the launch of the Tesla Weekend Social series at your nearest Tesla location.

This new event series was designed exclusively for owners. Over a light breakfast, you'll have the opportunity to engage with Tesla product experts, learn more about latest product features and speak with fellow owner enthusiasts. We look forward to seeing you this month as we take a closer look at Summon.

To find the event nearest you, select a date below.
We were intrigued to attend this Weekend Social and though the invitation from Tesla was to feature the Summon beta that has been deployed to Auto Pilot (AP) enabled newer Model S. Our current Tesla Model S version of AP is "yours truly" pulling the car in and out of the garage to let the better half in and out of the car.  After all, with the S and Roadster in our garage, it's a tight fit.
Why would we join a Tesla Store event focused on a feature that we don't and can't use?
As investors in TSLA, we wanted to see what sort of response this sort of activity does (it looks like good demand generators for S and X, or the very least solidify customer loyalty.)

Many people own older non-Auto Pilot Model S.  Demonstrating the features of newer Model S might be the motivation to push one over the edge to upgrade a car.
There is always a feeling of "what's next" with Tesla, besides with the announcement of the new "nose" and design refresh for the Model S, I wanted to see if we would catch one "in-person". (spoiler, we didn't)

We wanted to see what sort of thing Tesla would cover

It mentioned Summon, but this "Tesla Social" thing looks to be the start of something bigger, so we wanted to see what it was about.
I never know if there's something new that I would pick up from others.

We really like to be social with other Tesla folks. So, thought, why not?

Besides, the OC Tesla Club (Orange County, California) that we help organize with our good friends Mark L (and his wife Anna) and the group's founder Tan just registered as an official Tesla Club with Tesla Motors and wanted to "lend a hand" and see if anyone else would want to join the group.
We expected there to be questions from new Tesla owners and thought that we can help cover anything else and free up the Tesla employees for other things.
Apparently we weren't the only ones interested in this weekend's activities, here is a thread on TMC on the same thing.
So, what was it like?
We arrived at the store at 9:58 AM and proceeded to enter the facility.
There was already a crowd of folks that were asking questions of the Tesla Costa Mesa store manager, Gavin Torres, with questions.
As you can see in the pictures, there were a bunch of folks there for this Social. I would estimate that there were 50 people that showed up to the Tesla Social. Not all were there on time, but on a rolling basis, I would guess that many.
The Summon feature, as with many Tesla features, has been demonstrated by many others in videos on Youtube and those videos were more dramatic than the Tesla Social event.
Here's the one with the guy using it to pick him up from the rain.
Here's one where the owner is getting the car out of its garage.
and the official video from Tesla.
The store manager at Costa Mesa had the forethought to staff for success and each group had a Tesla employee demonstrating Summon (and answering a ton of Tesla questions that had nothing to do with Summon.)
The group we were with was interesting in that he used a pole that was in the parking lot to show how sensitive the sensors were in the car to understand the existence of the pole and route around it.
The car he used to demonstrate the feature had to be parked closer because he had used it a few minutes prior to show the basics of Summon, and it was already parked pretty efficiently.  Having seen this feature in action before, I was interested to see if there was anything else that I could learn about it, and there was an interesting way that the instructor discussed initiating Summon from within the driver seat and the front panel without using the fob or app.
As with many places that reported on their Tesla Weekend Social activities, after the official demonstration, many were treated to a "show and tell" by those in attendance with Model X.  The Costa Mesa location was not an exception to this.
There were three Model X owners there and one did just that.
In all, we stuck around to talk with other owners and answer questions about Tesla. the owners ranged from folks who just picked up their cars to others, like us, who've had their cars for years.
Was Tesla successful in getting us to upgrade our S? Not exactly… It did reaffirm our desire to have these features on our Model 3, when that gets delivered.
Since we arrived so close to the start and it seemed like they started early, I found out that the first 30 minutes prior to the start of the demonstration was spent fielding all sorts of questions from the owners that were present.  This speaks of a need for Tesla to perhaps be more thorough in their delivery process in showing folks what they need to know during the pick up.  Granted, the over the air updates change the look, feel, and behavior of the car that being trained on a feature that suddenly shows up is a challenge for Tesla.  However, taking the steps to add these Tesla Social series will allow those that suddenly have new features show up in their car with a forum to ask Tesla how to properly use these features.
It is commendable to see Tesla start to do ownership outreach in this manner throughout its Sales Centers.  In the meantime, hopefully, resources from the ownership community, such as our OC Tesla Club, Tesla Motors Club forums, Teslarati, and others can all be there to provide much needed assistance.  I've asked fellow OC Tesla Club members to make new owners aware of our club's existence so we can alleviate the crush on Tesla's employees on questions that can be easily answered and demonstrated by the owner members.