With a hat-tip to the 2004 TV mini-series from Ewan McGregor and Charley Boorman. This is the second day in a series of posts written about our 2016 EV Roadtrip written in the same manner as our 2015 trip.  Here, There, and EVerywhere Trip – Day 01, i.e. summaries written for each day of the trip, published each day, this time two months from the day of the trip. It may seem funny to some to have a summer trip published at the start of the Fall, think of it as some daily entertainment for those that are back in their offices thinking about their past summer trips that could have been or thinking about their next trip.
Missed the previous day's post, click here to read Day 1 of this trip.
So, why the long way round? Well… We got four referrals on the Fourth Tesla Referral Program (May 30, 2016 to July 15, 2016) and we expected to get an invite to the Gigafactory Party, so we thought to start our trip and go to Reno (a nearly 500 mile direct drive from home) via the Pacific Northwest (about a 1600 mile detour) with the intermediate goal of attending the EV Roadmap 9 Conference in Portland, visiting family who were spending time in Seattle, WA and family in Vancouver, BC before turning back for the party.
There are two goals today.  The first goal is to make it to Portland so that I can make the EV Roadmap 9 conference tomorrow morning.  The second goal is to meetup with MelindaV of Model3Ownersclub.com.
Day 2 – North to Portland, OR starting at Red Bluff, CA. July 19, 2016
Hampton Inn and Suites, Red Bluff, CA
When we checked in overnight, there were no convenient parking spots left.  The Front Desk told us to park in its driveway.  Since I wanted to charge on the NEMA 14-50 outlets that were available at the Hampton Inn and Suites at Red Bluff.  I decided to move the car to the RV stalls in the morning.
The range left on the battery in the morning was 210 miles and we parked the car with 211 miles, so it looks like we only lost 1 mile overnight.  We had enough charge left to reach the Mt. Shasta Supercharger which was only 89 miles away. My desire to charge at this location was so that I can add it to my "places that I have charged" list than anything else.  Furthermore, I wanted to see what speed the NEMA 14-50 outlets would take to recharge a Model S at this hotel.
So, I moved the car from its spot in the front driveway to the RV spots away from the entrance.  The RV Spots looks interesting…
And the NEMA 14-50 is easily accessible, there was also another outlet there (pictured below)  that kinda looks like a NEMA 10-30.
So, plugged in, and headed back to get ready for today's drive.  It looks like the location is getting a good 25 miles per hour.  That's a good rate and will make this location a possible stopping point on the way back to Reno on the trip to the Gigafactory.
So, after breakfast and a few minutes to charge the car,  we're off to head to Portland.
Looks like the Deer Crossing signs in California are more common in the Northern part of the state.  We're still nervous about driving in areas where the wildlife is big enough to damage the car, but had planned on mitigating that challenge by minimizing the amount of night-time driving.
As we continued on our drive, we see a snow covered peak ahead – we're guessing that's Mt Shasta.
We spotted another wildlife sign on this drive.  I must admit, the Bear Crossing signs in California are a little cuter than other states.
We saw an interesting scenic overlook, and thought to get a nice picture.  Here's a great shot of us… Mount Shasta was supposed to be behind us, but the sun was a little too sunny.
The drive was a little bit of a climb, but nothing we couldn't manage with over 210 miles of range at the start (and more since we convenience charged on the NEMA 14-50 at our hotel) we find ourselves at the Mount Shasta Supercharger.
Mt Shasta Supercharger.
The Mount Shasta Supercharger is one of the earliest supercharger locations and is located at the Best Western in Mount Shasta.  It hasn't expanded since its original four supercharger stalls at launch.  We were the only ones charging at this location on our drive, but anticipate some congestion on busy Holidays or at least during our drive back to Reno.
After a short charge at this location, we headed onward from our last California supercharger stop to our first Oregon supercharger stop at Grants Pass, Oregon.
We were greeted with the Oregon state sign at the border.  It was a bit understated.
The drive itself was a bit of a hilly ride, but it looks like we were headed more downhill than uphill when we took this photo of the energy chart.
This was an unexpected sight.  The formation in the distance hearkened us to our drive through Utah, except these were green and not barren of foliage as the Utah ones were.
Grants Pass Supercharger
We stopped off at the supercharger in Grants Pass which was at the rear parking lot of the Black Bear Diner in town.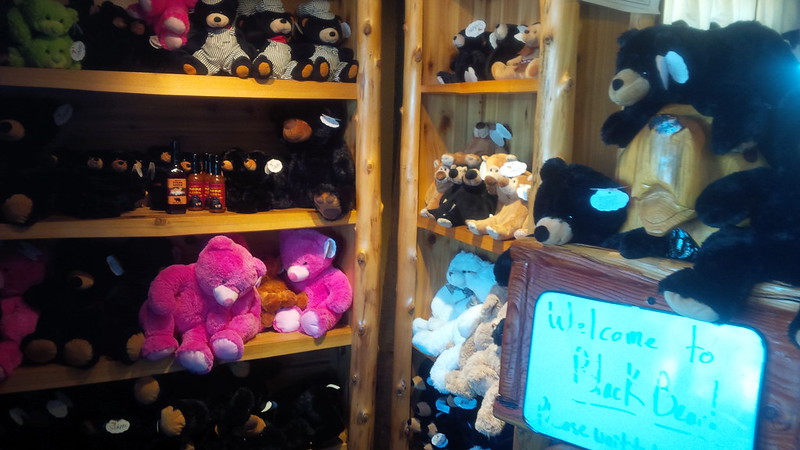 Looking at my pictures, one would think that The Black Bear Diner is a store for stuffed teddy bears, it's not, it's a chain of restaurants and I decided to take note of the business hours for the Black Bear Diner, just in case we decide to stop for a meal here on the way back.
This was another four stall location and we shared the charging location with one other car for a short while and then were left alone.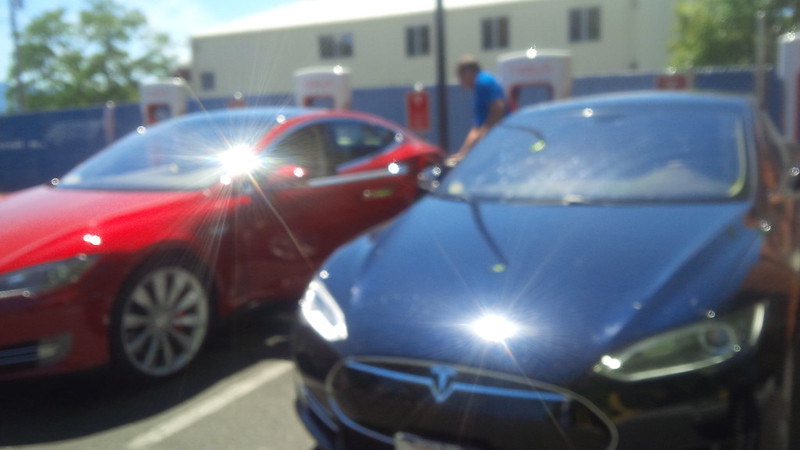 As we headed toward Oregon, we had scheduled an EV Meetup with MelindaV of Model3Ownersclub.com. She clued us into an Oregon coffee chain called Dutch Brothers. There was one a few short blocks away, so we decided to give it a try.
We tried two different iced coffees. I ordered an Iced Latte with sweetener and my wife ordered the Caramelizer (on their menu.)  The one I ordered was not as good as the one my better half did, so I ended up sharing her drink.  After fueling both the car and driver, we continued onward to the Springfield/Eugene, OR Supercharger.
Spotted some cows that were not as penned up as the ones that we saw around Harris Ranch.
We spotted a few "bald spots" in the tree lines.  Not sure what causes tree-line pattern baldness, but hypothesized that perhaps this was the lumber industry working.
As usual, the sight of some renewable energy generation on the drive gets my attention, and this was on the drive.
One of the things that tell us that we're not in Califronia anymore. The scenery is more green than golden.
Some more "free range" cows spotted.
We think that we may have spotted some of those missing trees from the "tree line pattern baldness" that we've been seeing on this drive.
The drive was not as mountainous as Interstate 70 through Colorado, but there were still some interesting differences in elevation on this drive.  We tried to capture the sense of the rolling hills that we had on Interstate 5 between Grants Pass and Eugene/Springfield and thought this shot conveyed it best.
Oregon is one of the few states that still allow trucks to travel hauling three trailers for one Big Rig.  This practice was stopped in California years ago and we're surprised to still spot the practice in other states.   I guess that Oregon requires these Long Load signs to be placed for those hauling three trailers.
Eugene/Springfield Supercharger
We arrived at the Eugene/Springfield Supercharger needing 108 miles to make it to our destination.  However, I wanted to put as much "in the tank" for driving around Portland charge.  So, we decided to stick around.  Looks like many of the owners in the area understand supercharger pairing.
We charged at this location for a while and had the opportunity to spot the Red, White, and Blue Model S combination several times.  Though in this first shot, the order is White, Red, and Blue.
We were patient and were able to get a photograph at this angle which put it in the Red, White, and Blue order.
We range charged to make sure that we arrived at our hotel with as high a charge that we can.  When we planned our hotel, the hotel we chose had a Level 2 charger show up on Plugshare.  It was not a destination charger under Tesla's program, it was a pay charger that I did not have an account with.  I got an account with the provider, however, I wanted to minimize using it, if possible.  Besides, I believe that the initial start-up balance required by the provider was $20.  I wasn't intending on using the network that often however I was setting it up so that I could use the network if we needed to.
We left the charger with 248 miles and decided to head to the Electric Avenue charger in Portland.  We had scheduled a meet-up with MelindaV from Model3Ownersclub.com and continued on our way.
Spotted more free range cows.
Some more triple trailer trucks.
Even more free range cows.
As we neared Portland, I was surprised to see a supercharger show up on my Navigation.  We were nearing the Woodburn Outlet Stores and our map showed a Supercharger there.  Our original routing skipped this supercharger entirely.  We were getting quite hungry for dinner that we decided to combine a charge stop with our dinner.
Woodburn Supercharger
We used 79 miles since we last charged and we decided to stop at this location so that can minimize using the Level 2 at our hotel.  Additionally, in doing so, we can take full use of the high power Level 2 at the location to recover miles while we meetup with MelindaV rather than take up a valuable CHAdeMO station at Electric Avenue.
Here's a nice panoramic of the multiple stalls at Woodburn.
The supercharger is located at the parking lot for Elmer's Restaurant.
But across the parking lot is a Starbucks and Sora Sushi.
We decided to have dinner at Sora Sushi. We've actually been to this sushi bar a few years prior on a fun weekend trip to Portland to go to the Willamette Valley for wine tasting.  Part of that weekend was a quick shopping trip to the nearly adjacent outlet stores.  The supercharger was not even a potential location at the time that we stopped here previously.
It looks like we missed half-off sushi time.  Perhaps next-time we stop off at Woodburn.
Sora Sushi is a conveyor belt sushi, so the plates zoom on by.  The prices are reasonable and the fish was tasty.  Additionally, one can also order to have something made for one's self.
We had a quick, but satisfying meal and a very nice Red Model X greeted us upon our return to the supercharger.  The Multi Coat Red looks great in person and this X was no exception.
We packed up and headed to Portland's Electric Avenue.
Since we had quite a bit of charge from the superchargers on our drive, we didn't really "need" to charge.  However, Portland's "Electric Avenue" is a charging destination for long-time EVangelists.  The original location was relocated a year or so back and though I never got to charge at the original, it would be criminal to visit Portland and not stop off and pay homage to EV predecessors.  So, we stopped off to charge at the High Power Level 2 chargers at Portland's "Electric Avenue".  The chargers are free, however, visitors must pay for the parking spot used while charging.
Since we arrived after 7pm.  Even the parking fees were waived after hours.
We had our meetup with MelindaV (pictured below, photograph by my better half) from Model3Ownersclub.com.  We spent some time talking EVs, her pending Model 3 order, and interesting things regarding the Portland area.  We had a good time meeting with her and appreciated the sampling of local goods she gave us for our hotel.  One of the pleasures for EV Roadtrips is to meet fellow EVangelists and it's great to see someone who is passionately waiting for her Model 3.
After hanging with her, we went ahead and checked into the Doubletree Hotel, Portland.
Doubletree Hotel, Portland OR
As I explained earlier, the network provider for the chargers at the Doubletree required an initial $20 charge to start the account for the location.  Since the network provider was not one that is common in our usual geographic area, this startup charge was somewhat expensive and we since were really close to "Electric Avenue", we decided not to charge here.  We parked at a regular spot on the other side of the chargers.
There were lots of Level 2 chargers at the lot.  They did a good job getting ready for use, but it's really more geared toward locals that would use their network on a regular basis than infrequent travelers such as ourselves.
Intermediate Mission Accomplished.  We reached Portland in time to get a good night's rest and head to EV Roadmap 9 tomorrow.  Additionally, we got to hang out and meet a fellow EV enthusiast and looking forward to the first day of EV Roadmap 9.
The next day of this series, Day 3, is available here.
It's important to note that our Gigafactory invite would not have been possible had folks not used our referral code.  So, I have to thank those that were convinced to pick up a Tesla Model S or Model X and decided to save some money by using our referral code. So, if you're as inclined as those that took us up on the offer, and in the market for a Tesla Model S or Model X, you can save $1,000 USD/$1,200 CAD/£750 GBP (and whatever the equivalent is in your market) if you use our referral code – http://ts.la/dennis5317.